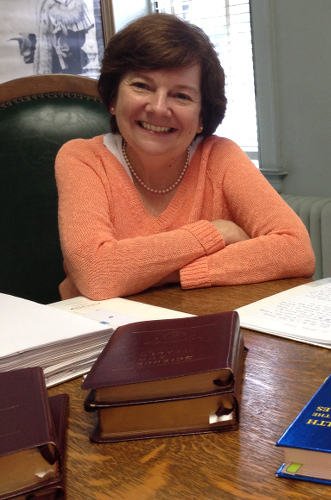 Janet Hegarty, a member of the Christian Science Board of Lectureship and a Christian Science practitioner and teacher has presented her talk, "How to make change for the better," in many venues across the United States and in the UK.  In the talk she discusses the healing power of Christian Science, based on the Bible and on Science and Health with Key to the Scriptures, written by the founder of Christian Science, Mary Baker Eddy.
Janet has experienced the kind of change she'll be talking about. Moving from a life full of fear for her health and a feeling of uncertainty about the future, to a lasting feeling of security based on a spiritual understanding of her connection to an all good, God. This spiritual basis for health has given her a joyous expectation of good rooted in this unfailing spiritual source. More than a superficial change in attitude, Hegarty felt the life-changing power of God's goodness and the healing that results from understanding our oneness with God.  Hegarty now travels from her home base of St. Louis to give this message to audiences in the United States and around the world.
In the talk Janet says: "A new look, a haircut, a different job, even a pill can't make permanent, substantive change in our lives.  We have to go deeper – to the foundation of our indestructible connection to our real source, the one, all-good God. A God which is Life and Love itself, the very Principle of everything real and good, not just a man up in the clouds."
Janet hopes listeners will take the practical ideas presented in the talk and apply them in their own lives to make change for the better.